Initially prospective owners can either
a. Call us on 0845 458 3797 for advice and information, or
b. Visit the kennels any day between 10am and 2pm, you do not need an appointment.
1. We advise that you visit and see the greyhounds currently in our kennels where you can walk any of them, play with any of them and get a good feel for which one of them might suit you. You will also receive a pack of information about us and our greyhounds.
2. If you like one of the dogs you can reserve it pending a home visit.
3. If there is not a dog that suits you can find out what is on our waiting list and we will advise when to have another visit.
4. If you decide that a greyhound is not for you we wish you well on your continued search.
5. If you have reserved a dog, arrangements will be made for a volunteer to make a home visit to talk more about greyhounds and advise as necessary.
6. If you wish for a home visit before you decide, to get further information and advice, we are happy to make an arrangement.
7. Once a home visit has been successfully concluded than a further visit to the kennels to pick up a greyhound or make a decision can be made.
8. We are ALWAYS available to help and assist once someone has taken on a greyhound. We are always available for advice and support and if required, we have the use of the services of a dog behaviour specialist to help with the relationship between you and your new greyhound.
9. Our aim is to provide happy dogs for happy homes and owners – and we are willing to go the extra mile to make sure this will happen.
10. We organise a number of events etc during each year for people to get together with other greyhound owners.
PLEASE CALL CORINNE ON 0845 458 3797 IF YOU WOULD LIKE TO KNOW MORE DETAILS OR LOOK FURTHER AT OUR WEBSITE
IMPORTANT INFORMATION – PLEASE READ CAREFULLY
Most of our greyhounds are between 2 and 5 years old so you are looking at possibly a 10 year commitment…there may be problems and 'hassles' along the way…are you sure you are ready for this? We strongly recommend that greyhounds are kept on a lead. Greyhounds are sighthounds who may be good off lead some of the time, but if they see a cat, rabbit or small dog then they may chase and 'recall' goes out of the equation. Socialisation activities are beneficial initially and we can advise on these. Extendable leads are not recommended as a greyhound can reach high speed very quickly.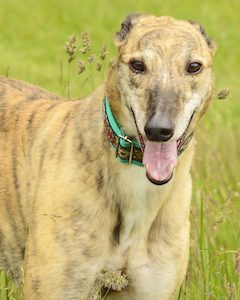 A GREYHOUND FROM YARMOUTH GREYHOUND HOMEFINDERS
If you take a dog from us, the Greyhound will be neutered and vaccinated up to date. It will also have been treated for fleas and worms.


We provide the following equipment which we feel are important basics in rehoming a greyhound;


A collar and lead – greyhounds need a wide collar which aren't commonly available in pet shops.


A muzzle – although Greyhounds are one of the gentlest breeds of dogs, they may be interested in cats/small dogs initially and so we provide the muzzle for them to wear to prevent any unfortunate mishaps. We advise that the muzzle is worn for the first walks whilst you are getting used to the character of your greyhound.


All greyhounds, regardless of age, will be insured FREE OF CHARGE through PetPlan for their first 4 weeks in a new home.



Greyhounds are all MICROCHIPPED and registered with us. We will make sure the registration is amended to the new ownership.



We provide all the above as standard, but like all the major responsible rehoming organisations we do ask for a commitment from the new owners.



We ask for a minimum donation of just £200 from adopters to help cover the costs of the above mentioned items.



Taking the neutering into account we do not profit from any greyhound we rehome, but we feel that the donation shows a serious commitment on the adopter's part to the dog.



We are a registered charity 1172132 and so any funds that we receive are used to help us to assist and rehome greyhounds.



Accessories such as winter, summer and rain coats, grooming implements, other types of collars, dog food etc can be purchased at our kennel shop.
Come and see our greyhounds for yourself - the kennels are open to visitors every day from 10am to 2pm. Please make an appointment first.